For every 7 nights stay, we offer you the one night for free!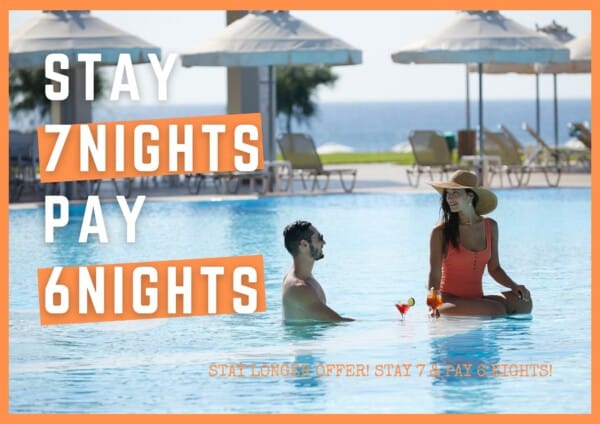 The summer you deserve is waiting for you and we want to make it last a little bit longer, with our exclusive STAY 7 NIGHTS & PAY FOR 6 offer, offering you one free night for a every 7 nights stay.
Book now your upcoming summer holidays and make the most out of your well-deserved vacation by staying a little longer for free!
Offer details:
What is this offer?
With every 7 nights stay, we offer you the one night for free: When you stay seven nights you pay only for six, if stay 14 days you pay only for 12 nights and you get 2 nights free, etc.
This offer applies for half board & all-inclusive & B&B stays and it cannot be combined with any other offer
When can I book this?
This offer is only valid for bookings made up to 15th of June 2021.
When can I stay?
Anytime within 2021. We want to give you full flexibility for arranging your holiday when it suits you.
However, this offer is valid for a minimum stay of 7 nights.
Is it flexible?
Yes, this offer is fully flexible meaning you can amend your booking and cancel up to 24 hours prior to your arrival date.
Book this offer