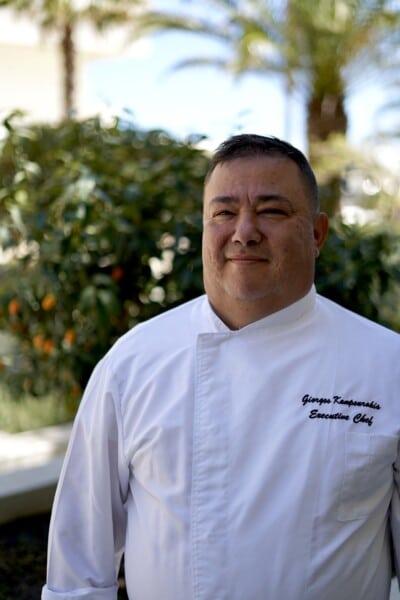 Let's seek some inspiration from the beloved Greek tastes of previous summer holidays!  Cook at home one of the most popular dishes of our kitchen, "Gemista" – Stuffed tomatoes & peppers with rice, following the step by step recipe by our executive Chef George Kampourakis. Taste at home a classic everybody's favorite Greek dish that will surely transport you to the sunny days at the Apollo Blue Taverna.
Gemista" stuffed vegetables with rise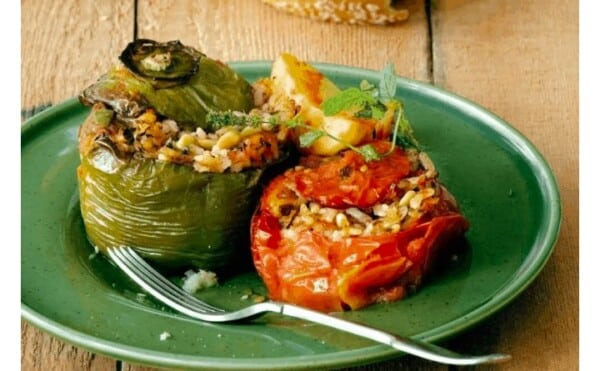 Nutritional info
A summer dish with high nutritional value. Tomato is rich in antioxidants, vitamin B6, magnesium, iron, zinc and folic acid. Pepper is an excellent source of vitamin C. Stuffed rice is a very good source of B vitamins, carbohydrates and fiber. This dish becomes even more valuable if it contains parsley, an excellent antioxidant, rich in vitamin C.
Ingredients are for 4 to 6 portions
Time of preparation is 20-25 minutes
Cooking time is 60 minutes
Ingredients
 4 large green peppers
 4 large tomatoes
 1 small eggplant (100 gr)
1 small green pepper (50 gr)
80 gr dried onion
½ bunch of parsley
½ bunch of mint
100 gr olive oil
50gr Carolina rice
50gr parboiled rice
Execution
Step 1. Prepare vegetables
Wash all the vegetables, cut 1 slice from each tomato (to remain united with the tomato we do not separate completely) and with a spoon empty the crumb, taking care to leave a little flesh in the skin so that they do not open after filling and baking . Lightly salt the tomatoes
Keep the tomato crumb for the filling and grind it in the blender.
Cut 1 slice from the top of each pepper and remove the seeds and their white part. Lightly salt the peppers
Peel the eggplant from its outer skin and finely chop it into cubes, finely chop the small pepper
Step 2. Prepare the filling
In a deep frying pan, heat 1/2 cup from the total olive oil and sauté the chopped onion for 2-3 ′. Add the eggplant crumb, the chopped pepper and sauté for 2-3 minutes, until they wither. Add the rice and stir.
Add the ground tomato and 1 tbsp. water. Season with salt and pepper and simmer for 5 minutes. Remove the filling from the heat. Sprinkle with the chopped herbs. The filling should be quite juicy when we fill the vegetables.
Step 3. Stuffing vegetables & cooking
Fill each vegetable up to 3/4, because the rice will swell when cooked. Put the lids and place them in a deep pan, close to each other.
In a bowl, whisk the remaining ground tomatoes with the remaining 1/2 cup of olive oil. Season with salt and pepper and pour over the pan with a spoon.
Bake them in a preheated oven at 180 ° C (356 Fahrenheit) the first half of an hour covered. Then, remove and continue baking, which takes a total of 1 hour. If you notice it getting dry, add a bit more water. To see if it is done, check the rice it should be soft and mushy

Extra tip: Accompany stuffing vegetables with Greek feta cheese & white wine "Moschofilero" for an authentic Greek taste experience! Kali Orexi