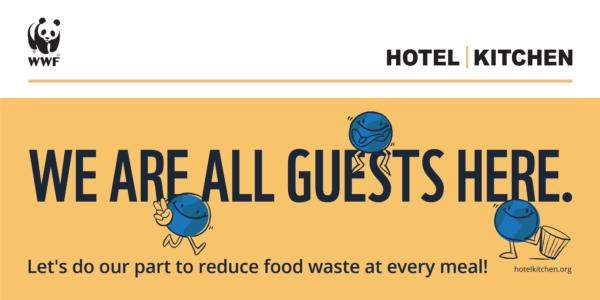 We are proud to participate in the WWF's innovative program "Hotel Kitchen: Here we value food" that aims at reducing food waste in the hotel sector. Through this program, our hotels are recording waste across the supply, preparation and dining process and are implementing best practices to reduce food waste, a major environmental issue of our time.
We strongly believe in this initiative, as the protection of the environment wherein we operate is one of our key objectives and we invite our guests to join us at this effort.
Your support is valuable and very welcomed. 
Apollo Hotels Management team
"We are all guests here"
One third of food produced worldwide today goes to waste and along with it we throw away all the planet's valuable resources (farmland, water, clean air, energy) that were needed to produce our food. Therefore, the sustainable management of our raw materials and the prudent use of food is one of the main pillars of our actions.
Since April 2021 we have committed to reduce food waste in every possible way and we are proud to participate in the WWF Greece program "Hotel Kitchen: here we value food ", with a vision to prevent food waste in the hotel sector.
That is why we are changing the way we purchase, cook and dispose of the food we use, while we use a reliable measurement system to track the volume and the causes of food waste in our premises. At the same time, our staff are being trained and engaged in tackling this huge challenge that affects us all.
Ensuring an excellent experience for our guests, both Apollo hotels, Apollo Blue & Apollo Beach,  are among the 11 hotels selected to implement this program, actively engaging staff  and guests in reducing food waste.
The "Hotel Kitchen" program was first implemented in 2017 in the United States by WWF US in collaboration with the American Association of Hotels and Accommodation (AHLA), with the support of the Rockefeller Foundation. In Greece, the program has been implemented since March 2019 with the support of the WWF network and Unilever Food Solutions.