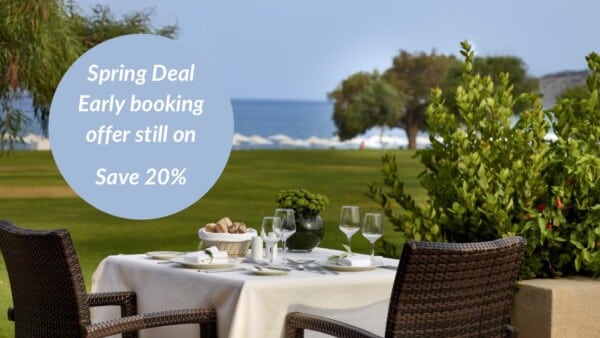 Spring Deal!
Early booking offer 20% off, extended until 15th June.
Our exclusive fully flexible Early Booking offer, is extended up to 15th June 2021!
Book now your dream island holiday stay with us, anytime in 2021 and save 20%.
Don't miss this unique opportunity to enjoy our hospitality for less!
Offer details:
Why this offer? This exclusive offer saves you 20% off all our standard rates.
When can I book this? This offer is only valid for bookings made up to 15th of June 2021.
When can I stay? Anytime within 2021. We want to give you full flexibility for arranging your holiday when it suits you. However, this offer is valid for a minimum stay of 3 nights.
Is it flexible? Yes, this offer is fully flexible meaning you can amend your booking and cancel up to 24 hours prior to your arrival date.
Book this offer