Traditionally, the Rhodian table was rich in variety. This tradition continues until today. Foodies from all over the world have good reason to visit Rhodes as they have the chance to enjoy local specialties that brilliantly combine traditional and modern tastes.
Fresh ingredients, local flavors and a devotion to authentic gourmet tastes, define the cuisine of the Apollo Hotels.
At the main restaurants, where breakfast and dinner are served as buffet, one can savor excellent tastes inspired by the Mediterranean diet and traditional dishes from Greek & Rhodian cuisine.
At the Apollo Blue a la carte restaurant, our chefs experiment with new approaches to traditional recipes, creating a modern Greek cuisine and superb dishes, using only but the finest ingredients and local herbs growing in our garden!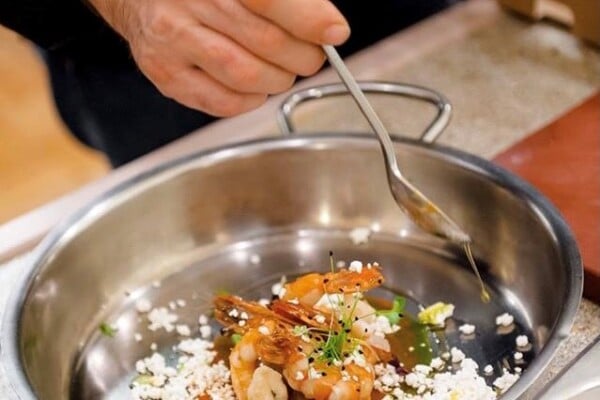 A variety of special gastronomy events, such a as the popular  a Greek "meze" event, give the opportunity to our guests to savor a variety of delicious Greek tastes that indulge even the most demanding palate.
Cooking lessons with the aid of our experienced chefs, are organized frequently initiating our quests to the Greek cuisine, with valuable tips and plenty of "hands on" preparation and cooking!
The tasty dishes, served at the Apollo Hotels, find the perfect companion in the equally delicious Greek wines, from various regions of Greece. We are proud of our wine selection hand picked from the best Greek vineyards and stored in perfect conditions in a dedicated space
Special wine tasting & wine pairing events with guest sommeliers  are organized regularly, giving the opportunity to the wine lovers, guests of the Apollo Hotels, to taste the marvelous awarded Greek wines. Among them, the local ones from wineries of Rhodes, which in keeping with the tradition from antiquity, produce quality wines that have received awards at many international wine exhibitions.
We invite you to discover the rich palette of the  Greek cuisine and wines, joining one our gastronomy events. It will be a foodie experience to remember!